Well-known nut oils. Is macadamia better than cedar?
Nuts make up a treasure trove of nutrients and have an incredible nutritional value in a daily diet. Not just in the diet, though. An oil extracted from nuts is the best beauty substance you can imagine. Besides a set of vitamins and minerals typical of a given nut, such oil is also a valuable source of healthy fatty acids that nuts are famous for. Natural oils are extracted from seeds, stones, flesh and nuts of plants. The nut-derived oils are one of their kind because of EFAs content. Cedar oil and macadamia oil are the most famous nut oils. Many people say that natural face, body and hair care doesn't exist without the latter. Why the beautifully-smelling macadamia oil is more popular than cedar oil? How to choose the best macadamia nut oil?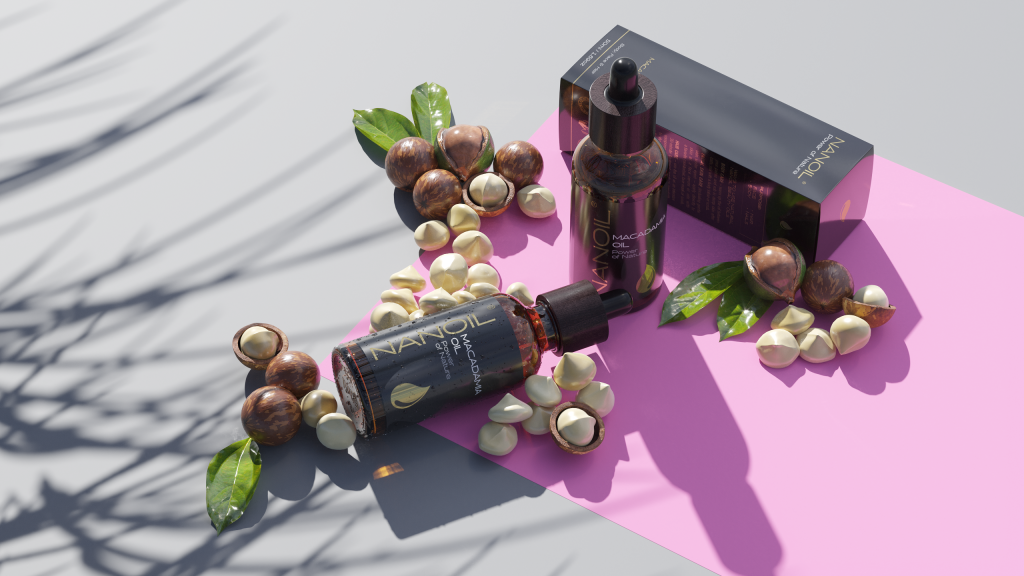 Skin and hair benefits of cedar oil
It nourishes, strengthens, adds elasticity, delays aging and protects against the unfavorable effect of outside factors. Cedar oil keeps you away from weathered hair. The harsh Siberian climate, where the trees bearing the cedar nuts grow – the material that cedar oil is derived from, "fortifies" the amber-color liquid making it improve the hair and skin's resilience to damage. The oil also has an anti-seborrheic, anti-inflammatory and soothing effect, as well as reduces hair loss and makes strands grow faster. It's got a positive impact on the state and appearance of skin (especially when it's extremely dry), nails and damaged, highly-porous hair. This very type of hair needs polyunsaturated fatty acids (linoleic, alpha-linolenic). A set of vitamins B (B1, B2, B4), vitamin PP, D and E intensify the noruishing power of cedar oil.
Why is cedar oil… imperfect?
Cedar oil ensures repair. Isn't that all we need? Even though cedar oil is perfect for damaged hair, it doesn't do well with medium or low porosity hair: it is likely to weigh down such hair types and simply fails to deliver the right hair care in this case. Heavy, greasy, limp hair isn't our dream look, right? For hair which isn't over-processed and damaged, it's better to use macadamia oil which is, at the same time, skin-friendly. A light non-comedogenic and instantly-absorbed in the epidermis: macadamia nut oil guarantees hair care tailored to our needs.
Skin and hair benefits of macadamia nut oil
Macadamia oil belongs to the world's most popular oils. Together with argan oil, it is an incomparable hair care oil because it suits all hair types, being light and not weighing down the tresses at the same time. Macadamia oil gives excellent heat-damage protection which works even in the case of an extremely high temperature, that is e.g. while blow drying.
At the same time, macadamia nut oil works amazing for body and face providing safe skin care: it neither leaves a greasy coat nor has a comedogenic effect. This oil is suitable for all skin types, ranging from greasy or dry to couperose, sensitive and aging. It equals first-class repair.
The best macadamia nut oil only by Nanoil
Nanoil Macadamia Oil stands out against others thanks to its top quality confirmed by the Ecocert mark. If you're seeking the best natural oil and the quality is the priority, pick 100% pure, unrefined, cold-pressed Nanoil Macadamia Oil which holds all that's the most precious in macadamia nuts:
unique omega-7 palmitoleic acid which has amazing beauty benefits
omega-6 linoleic acid ideal for skin and hair
vitamin E which means rejuvenation for skin, hair and nails
vitamin A (retinol) which has the power for eliminating wrinkles
vitamins B (B1, B2, B3) that are important for skin and hair repair
Nanoil Macadamia Oil is so much talked about thanks to efficiency and strong conditioning properties. It's one of the best, world-famous oils. Nanoil Macadamia Oil gets amazing opinions among users. It's a vitamin-dense, lightweight and multi-purpose serum that will surprise you with the powerful effect. It is versatile and perfect for hair, face, body, under-eye skin and nails. Moreover, it helps get rid of stretch marks or cellulite, and gives the skin a gorgeous even tone. You can freely use it because it is quickly absorbed and gives a feeling of smooth, moisturized skin. No wonder it's a beloved beauty oil of vloggers and bloggers. Use it solo or combine with other natural semi-products, essential oils and cosmetic clays.
Check nanoil.us/macadamia-oil and pick a flawless oil.